Welcome
Why not reach both, the Texas & Mexico Market, at the same time? WE DO.
July 19, 20, 21, 2024
MORE THAN 32 YEARS IN BUSINESS
THE 33rd ANNUAL TEXAS HUNTERS & SPORTSMAN'S EXPO
McALLEN CONVENTION CENTER, McALLEN, TX
SHOW HOURS:
FRIDAY 5 P.M.-10 P.M.
SATURDAY 10 A.M.-7 P.M. & SUNDAY 11 A.M.-6 P.M.

The 2024 Expo will be held at the McAllen Convention Center

OVER THE PAST 32 YEARS, OUR SHOW HAS GROWN TO BECOME
ONE OF THE BIGGEST & BEST SHOWS IN THE STATE OF TEXAS!
BOOK YOUR SPACE NOW!
The 33rd Annual Texas Hunters & Sportsman's Expo will focus on one of the fastest growing cities in the United States-McAllen, Texas. In addition to hosting the very successful Texas Hunters & Sportsman's Expo for the past 32 years, the RGV is also home to thousands of affluent hunters and large ranches.
McAllen is located in the heart of the Rio Grande Valley and is just seven miles from the Texas-Mexico border. Our unique location draws thousands up thousands of visitors from Mexico, including Reynosa, Monterrey, Guadalajara and Mexico City.
Wealthy Mexican Nationals visit McAllen on a daily basis and contribute millions of dollars to the Valley's economy every year. In addition, McAllen is host to one of the fastest growing medical communities in Texas with huge numbers of medical professionals who are affluent/avid hunters.
Bottom Line – "The market is here and is hotter than ever".
So Join:
Experienced Guides & Outfitters
Feature Attractions
Exotic Wildlife Ranches
Major Boat & R.V. Dealers
Major Manufacturers & Dealers
Fishing Guides
Wildfire Artist, Taxidermist
Major Conservation Groups
The Texas Hunters & Sportsman's Expo is the largest show of its kind. We draw thousands of people from all over South Texas & Northern Mexico to our McAllen show each year. The one thing we like to emphasize is that our attendees are people who not only want, but can afford your type of products and services.  If you are interested in reaching both South Texas & Northern Mexico Markets, then this is the show for you.
Note: As you well know, 82% of hunters are anglers as well. With McAllen only being a little over an hour away from the Gulf of Mexico, a vast majority of our attendees are avid fisherman as well. Whether it's saltwater or freshwater, McAllen is close to some of the hottest fishing spots in the State of Texas. So if your business caters to the angler, this is the show for you as well.
The Texas Hunters & Sportsman's Expo is a well rounded show for all types of sportsmen and their families. We would welcome the opportunity to work with you for many years to come. If you are interested in representing you company at our McAllen expo, please call one of our sales representatives at (956)-664-2884 to reserve your space.
Live Music by Southern Ashes All 3 Days
Texas Hunter's Association Giveaways!
Safari Photo Shoot
Giveaway 1: A safari style photo shoot for 4 at the world famous La Coma  Ranch!
You will spend the day in beautiful South Texas. Safari style and ground blind for photo opportunities with many species from Texas, Africa and more! Includes a full day of photo ops, lunches, soft drinks and guide service!
Tips not included.
THANK YOU TO OUR SPONSORS!

Pedro Sors
World famous Bass Pro Shop angler and popular tv host of "Con Cana y Carrete" reaches an international audience of sportsmen and women every week thru YouTube and social media platforms.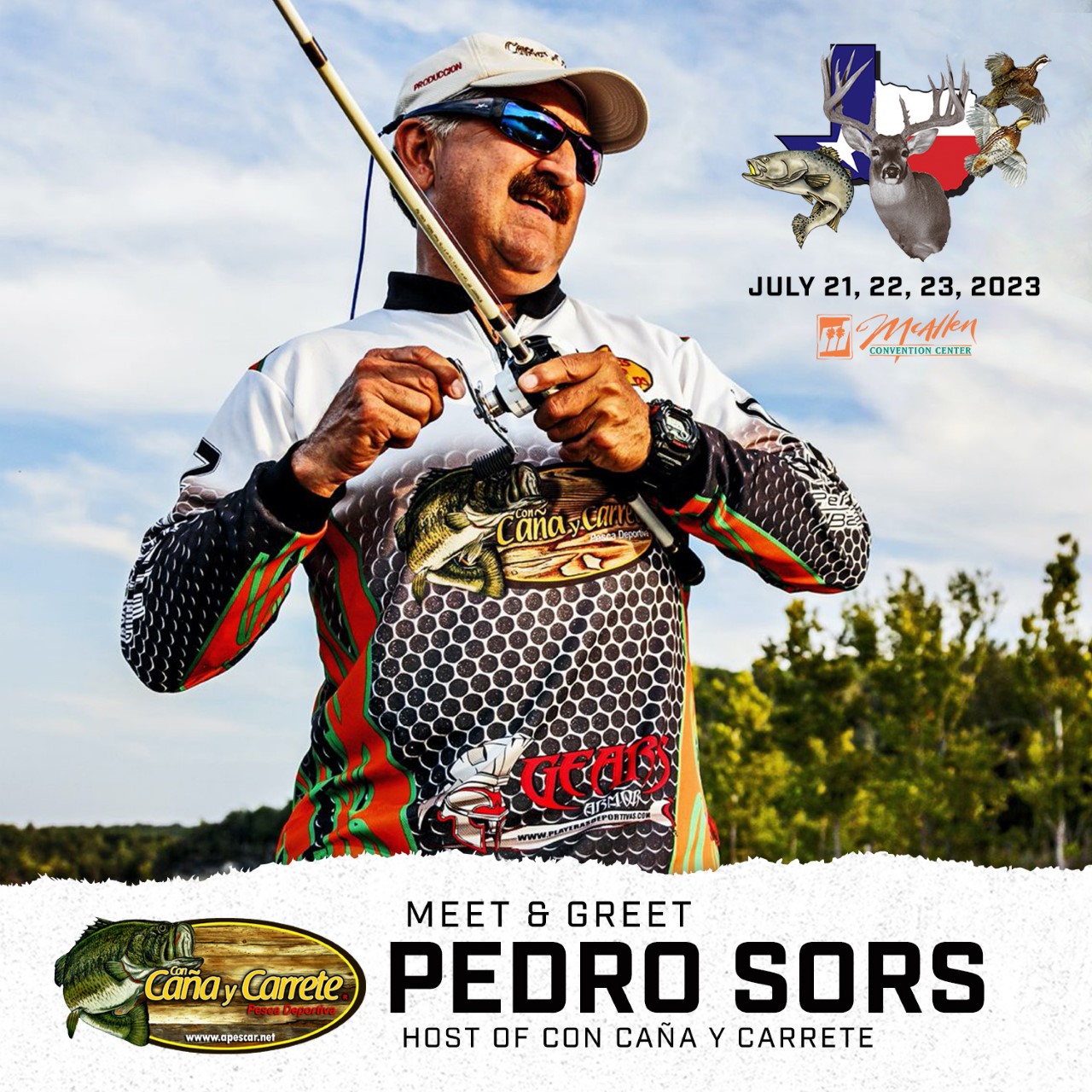 Find Us
956-664-2884 (PHONE)
956-682-7434 (FAX)
P.O. BOX 2647
MCALLEN, TX 78502
texashunterexpo@aol.com